VIDEO
Deep Kinetic Characterization: When IC50 Isn't Enough
Understand why characterizing time-dependent inhibition provides critical insights for lead discovery.
Not all kinase inhibitors are alike. In some cases, the compound's degree of target inhibition varies with time—known as time-dependent inhibition (TDI).
Endpoint assays that determine inhibitor potency at a single timepoint rely on the assumption that the initial reaction rate is maintained throughout the progress curve. Therefore, these assays do not capture lags at the beginning or saturation at the end of the curve. Instead, a deep kinetic characterization of your compound allows you to fully quantify binding kinetics and structure kinetic relationships so you can capitalize on inhibitor mechanisms of action.
A continuous assay, like our PhosphoSens assay, that measures the catalytic event of phosphorylation in real time enables determination of kinetic parameters that power your drug discovery research.
Watch our short video "The Role of Time-Dependent Inhibition Kinetics in Lead Discovery and Optimization" to learn more and download a copy of the presentation below.
Daniel Urul, Ph.D., Senior R&D Scientist
Daniel is a Senior R&D Scientist with a background in protein biochemistry, redox biology, and methods development. As an NSF GRFP fellow, he worked to optimize and expand techniques to identify and characterize novel redox-sensing proteins, from mammalian cell models to application in live C. elegans.
DOWNLOAD
The Role of Time-Dependent Inhibition Kinetics in Lead Discovery and Optimization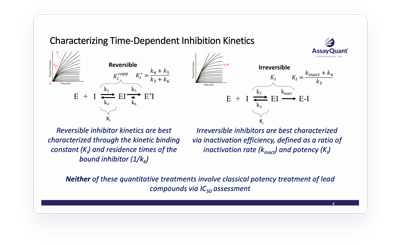 Learn more about the role of TDI kinetic characterization in early lead discovery and how it can capture relevant characteristics that can otherwise be missed through classic potency treatments.