POSTERS & PRESENTATIONS
Development of a Real-Time, Fluorescence Microplate Assay for Epidermal Growth Factor Receptor (EGFR) Tyrosine Kinase Activity
Erik Schaefer, Bill Lu and Susan Cornell-Kennon
Overview
Epidermal Growth Factor Receptor (EGFR) wild-type and mutant tyrosine kinase activity and the downstream signaling cascades are pivotal in oncogenesis, drug resistance and tumor recurrence


Continuous (real-time kinetic) and end-point/

Red

activity assays, using Sox-based fluorogenic substrates, provide key tools for identification and detailed characterization (potency, mechanism of action, kinome profiling and residence time data), for better lead candidate and drug optimization decisions with tyrosine kinase inhibitor (TKI) development


Richer data empowers improved design and development of more effective treatments including combined TKI/small molecule drug and TKI/antibody therapies for better health outcomes
Sophisticated Measurements in a Simple Mix & Read Format
PhosphoSens® continuous assays utilize a simple add-and-read protocol, providing the capability for real-time kinetic measurements with a straight-forward fluorescence intensity measurement. These assays are compatible with essentially any commercially available fluorescence microplate reader and associated laboratory automation equipment. No stop solution or quench/develop step is needed, minimizing time while maximizing throughput.
This simple add & read method for continuous, quantitative and direct detection of activity using recombinant enzymes or crude lysates enables better decisions regarding target biology and generation of lead candidates to empower faster movement through the drug discovery process.

Erik Schaefer, Ph.D., President, CEO, CSO
Erik has over 25 years of experience leading innovative life science tool companies, including Promega, BioSource, Invitrogen/Life Technologies, Thermo Fisher Scientific and now AssayQuant Technologies, Inc. He has commercialized more than 750 new products with a focus on workflow solutions and novel assay formats to improve understanding of signal transduction pathways and phosphoregulation in normal and disease states and to enable drug development leading to more effective treatments of human disease.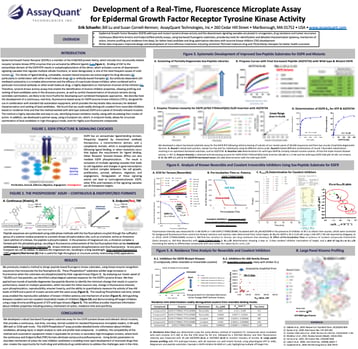 Society for Laboratory Automation and Screening (SLAS) 2022